If you've been following this blog, you know there have been a lot of changes in my life of late. We have been in the camper "full-time" for a month, and I think I'm finally settling in to somewhat of a routine. Our kitchen facilities have greatly diminished with this move, and one of my goals is to ramp those types of posts back up in the near future -- laying out alternatives and new ideas when faced with such a small space and few appliances.
The goal of lowering television viewing has been surprisingly simple to achieve, and I find I don't miss it much at all. I'm a sucker for sports, though. So I must admit March Madness has been in my recent purview. (Go Duke!) -- I'm proud to say I've increased my reading in lieu of tv.
Slowing down and taking in my surroundings has been a top priority, as well, and I'm happy with the progress there. (I'm sure to expound on that with other posts.)
That still lives priority
numero uno
: strengthening my walk with God. While I consider that to be a constant, ongoing goal, I wanted to take this specific time to put in some work. I have been more consistently reading my Bible and teachings in book form.
Are you familiar with the term "life verse"? Until fairly recently, I had never even heard this term. According to
What Christians Want to Know
, "a life verse is a verse from the Bible (or a small passage) that you choose to be your most favorite verse; it is the one that you commit to memory to share with others."
Well, I have a lot of favorite verses! Yet somehow I felt like I was lacking a
life
verse. "How can that be?" I briefly wondered. Then I put it out of my mind.
About a week ago, I downloaded Charles Stanley's
Handle with Prayer: Unwrap the Source of God's Strength for Living
. I'm on chapter 3, and was blown away from the start. (Partly, I'm sure, because my prayer life needs a huge makeover.)
I talk to God every day.
All day.
That part I have down. I'm confident God hears
and answers
my prayers. The area I feel in my soul needs improvement is
listening
. I know I receive guidance from the Holy Spirit, but it's highly doubtful I "get it" the first time around. Know what I mean?
The part of the journey I'm on now, for example. The idea of making a change and taking my life in a different direction has been on my heart for years. Yep, I said
years
. But I was likely listening to my own understanding so hard, I failed to hear God's perfect plan. The one that would have gotten me on the right, bright path sooner.
The title of the first chapter of
Handle with Prayer
is "Unveiling the Hidden". I want to know everything God has in store for me. Don't you want that for yourself? Well, that would require listening. Some patience and waiting. And listening.
To apply this more directly to my everyday life: I want to know how to use everything God put on this earth for good. What does that insect do to improve my life? How can that weed improve my health? How can I spread the word and widen the movement? How can I save the resources He provided for future generations?
Yes, there are resources (many! and good ones!) that I can use online and off to facilitate answers to a few of those questions. But the passionate, all-encompassing answers? I believe they come from Him. The one who knows all. The one who knows His plan better than any. The one who put those resources there in the first place!
And that's where I found my
life
verse. It's not just a new favorite verse. It's a verse that I will recite to myself constantly. Write it on the walls of my heart. I know where to go to get my questions answered.
So sayeth Jeremiah 33:3 --
Do you have a life verse? Share it in the comments below! Do you remember how it came to be the one?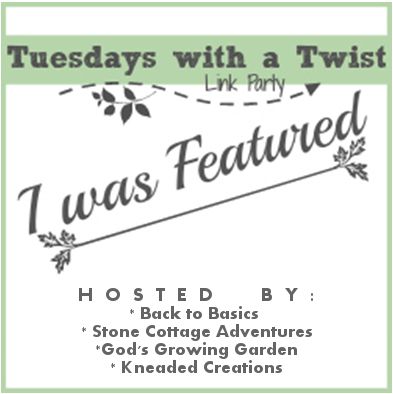 Shared at Making a Home - Homemaking Linky and Tuesdays with a Twist.
---
Disclosure: This post contains affiliate links, which means I may receive a very small commission if you click the link and buy something. This helps support my mountain homestead dream as well as my blogging activities, and the price you pay will be no different than if you arrived at the same destination through any other link. My opinions are my own, to be sure. If I link to a product and say I like it -- I truly like it! :-) Thanks for reading and following Stephlin's Mountain.