We are
supposed
to be living the homestead dream in the mountains right now. But
we're not
.
I know I haven't posted in quite some time. Initially, the lack was due to a combination of work, holidays, and preparation for
the move
. But then it became a lack of desire due to frustration and a case of the downers. Here's what happened:
In middle November the transmission went out in the car. Thankfully, the money was there to pay for it. We took a calculated risk and purchased a used transmission elsewhere for a local shop to swap out for us. We have gone this route once before and got 7 years and 60,000+ miles out of the deal. So we figured we might have to stay an extra month to recoup some of the savings before making the move. I took that knock pretty easily.
The calculated risk proved to be a bad move. Seriously bad. The transmission didn't even last a week. Though it never went out completely, I was terrified to drive it 20 miles one way to work. Now we're in mid December and back to square one.
And
we're out $1,400.
My heart sank to the depths. Everyone who is in the know kept telling me God's decision is "not at this time." I, on the other hand, believe it was
the enemy
trying to demoralize. I'm sorry to say it worked.
I had a panic reaction and thought we needed to buy a new(er) car. I was in tears because I knew that meant we would not be moving anytime soon. How could I quit my job with a car payment and a RV payment? Thankfully, I came to my senses. We decided to repair the car with a rebuilt transmission. This would require more money, but would not put us in a monthly payment that would delay the move by possibly years.
Then. A miracle. My father called up and offered $1,000 to help us get back on the road sooner. Said he would put a check in the mail. This was a week before Christmas. He called that Saturday to let me know the check was indeed on its way, with an added bonus. After a conversation with his sister, she asked him to add another $1,000 from her. I was shaking. And speechless. And blessed. And in awe. Not only of their generosity, but in God's provision.
I also felt a bit of validation. I know this path is in alignment with God's will. I
know
it. So deep within my soul, do I know it.
It took two weeks for us to get the car in the most reputable shop in town. It took another week plus for them to work on it, but we finally got the car back yesterday.
And it's still. not. right.
The same jerking that was so bad in the other transmission is in this one, though not
quite
as violent. We weren't even going to bring the car home since the problem reared its head within minutes of us leaving the shop. But the (very nice gentleman) mechanic who test drove it after we returned said it didn't happen to him and asked us to drive it a couple more days. And if the jerking continues to bring it back the beginning of next week. Needless to say, it's going back. The jerking hasn't subsided.
So the move is on hold. Again.
I know these problems might sound trivial to some. But if you've ever tried to make a bold move in your life, you might know of what I type. A bold move that you honestly believe is a task given to you by the Creator to help further the kingdom. A bold move that is
so
out of your comfort zone
.
I am of the opinion there is battle between good and evil playing out around me. The enemy makes a move. And My Father counteracts with a miracle-like blessing.
Where I'm afraid I'm falling short in this whole scenario is in attitude. I am seriously frustrated and somewhat depressed. I can't shake the thoughts and feelings of "why is this happening?"
I was out walking the dogs earlier in the evening. A light rain was coming down as we walked along a path in the woods. I suddenly felt this almost uncontrollable urge to get on my knees. I did so (much to the surprise of two rat terriers) and repeated "I surrender" over and over. I don't know how many times, but it was several.
I wish I could say a peaceful, easy feeling came over me (RIP Don Henley). But it didn't. I don't for a second think my prayer was in vain. I just think it's going to require work on my part. It's already proving to be a difficult task, but I'll make it. I'll stand back and let My Father push the enemy out of my way. And I'll do it, by the grace of God, with a thankful heart.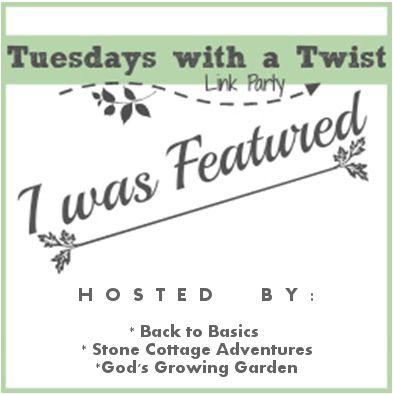 Shared at Faith Filled Friday, Freedom Fridays, Thought Provoking Thursday, Coffee and Conversation, Wonderful Wednesday, Word Filled Wednesday, Making a Home, Tuesdays with a Twist, UNITE, The Art of Home-Making Mondays, and The Homemaking Party.