Another title for this post could be:
When God Says "No" or even "Not Now"
.
We are not far removed from a disappointing, disheartening week. I'm choosing
not
to provide the gory details at this time. In short, I thought I was going after something that was meant to be for my life. I was somewhat confident it would materialize, but it didn't.
I was rather heartbroken, and even shed a few tears. Something I'm not known for doing often. Truth be told, I don't yet know if the Father said "No" or "Not now." Time will surely tell.
Which brings me to the subjects of faith and hope. In my opinion, it's pretty tough to have one without the other.
Hope, as a verb, is defined as "to desire and
consider possible
." The
consider possible
part is where faith and hope connect.
I'll admit it took me a day or two to get out of a disappointed funk. When I came around, however, I was a bit embarrassed before God. I talk the talk, but am I walking the walk? I am not a perfect being, so I allowed myself the human reaction and got back to the business of being a child of God. Is He trying to teach me something? Show me something? Does He have something "bigger and better" in His plan for me? Each of these possibilities requires patience and faith. Remember the
life verse
I mentioned in a previous post? Jeremiah 33:3. Yep. Patience and faith.
I do, in fact, think my Father is using this situation to teach me something. I have a tendency, when praying and talking to God, to be a bit meek. I mean, He's
God
! Shouldn't we bow to Him? Well, yes, but we are also told to come boldly before the throne. And we should not be wishy washy about it, either. Here are a couple of verses I was led to:
"But let him ask in faith, nothing wavering. For he that
wavereth is like a wave of the sea driven with the wind and
tossed. For let not that man think that he shall receive any
thing of the Lord." -- James 1:6-7
Less than 24 hours later, I read this in Cindy Trimm's
Commanding Your Morning Daily Devotional
:
"As a man thinks in his heart -- in the present active continuum -- he is building his life one brick at a time."
What is faith? The substance, or foundation (bricks!) of what we hope for.
If I'm being honest with myself, I have been a bit "wavereth." I don't mean in my belief that God is The Father. Nor do I mean in my trust in Him for my everyday needs. But I am a bit reticent when it comes to requests that I
think
align with His will. From now on, I vow to
know in my heart
and pray boldly!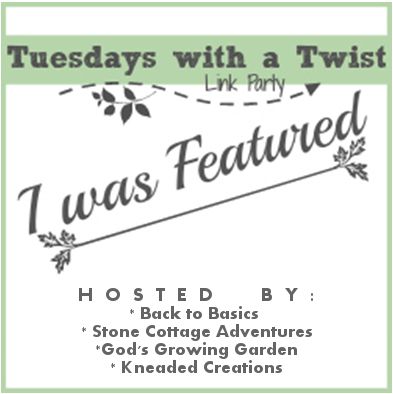 Shared at Coffee and Conversation, Wonderful Wednesday, Making a Home - Homemaking Linky, Teach Me Tuesday, Tuesdays with a Twist, and Homemade Mondays.
---
Disclosure: This post contains an affiliate link, which means I may receive a very small commission if you click the link and buy something. This helps support my mountain homestead dream as well as my blogging activities, and the price you pay will be no different than if you arrived at the same destination through any other link. My opinions are my own, to be sure. If I link to a product and say I like it -- I truly like it! :-) Thanks for reading, following, and supporting Stephlin's Mountain.